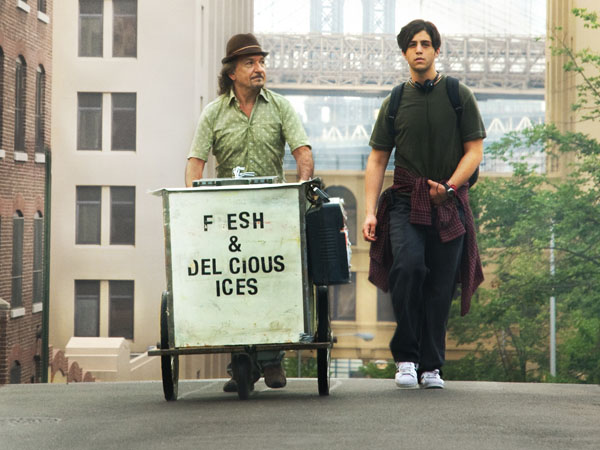 THE WACKNESS ***** (2008) DVD review by Coop
Set in the summer of 1994, Luke Shapiro (Josh Peck) roams about New York City selling pot and listening to hip-hop music. Despite his bad boy image, Luke is intelligent and introspective. He graduates high school with honors, but most consider Luke a creep. He feels alienated from society and begins to experience an early midlife crisis. He trades pot for therapy with loony psychiatrist Jeffery Squires (Ben Kingsley) who acts far less mature than Luke. When Luke's bickering white collar parents suddenly face eviction, Luke steps up his pot dealing enterprise in an effort to help, and Dr. Squires insists on tagging along in order to explore a possible career change. All the while, Dr. Squires' popular stepdaughter Stephanie (Olivia Thirlby) begins to take an interest in Luke, much to her stepfather's chagrin.
Here's a film that should've snagged a Best Original Screenplay nomination if nothing else. It's a funny and unique look at the coming of age story, highlighted by some superior performances. As Squires, Ben Kingsley trades his usual psychotic performances with one that offers genuine humanity and warmth. He accounts for the films most hilarious moments as he tries to out-juvenile Luke in an effort to feel alive. The reason for Squires' behavior becomes a sad revelation when we witness his interactions with his ice-queen wife, Kristin (Famke Janssen).
Josh Peck delivers a break out performance as the complex and good-natured Josh. Audiences have seen him grow up from a loud-mouthed pudgy kid on Nickelodeon shows to a tall and formidable adult. He sells the "too mature for his age" bit flawlessly and transitions from creep to cool organically over the course of the story. The unlikely friendship between Luke and Squires could've been horribly awkward if it weren't for the undeniable chemistry between the two leads. Thirlby got exposure from her supporting role in "Juno" but I suspect she's equally headed for stardom. She's already lining up leading roles for her next round of films.
For those of you perplexed or even turned off by the title, allow me to explain: During a poignant and intimate scene, Olivia Thirlby's character suggests (in hip-hop terms) that Josh should focus more on the "dopeness" (the good things in life) instead of dwelling on the "wackness" (the things in life that bring us down). I know… the terminology is a bit suspect. If I had a nickel for every time Josh or Stephanie used the term "mad" to describe large quantities (ex. "I'm making MAD money."), I could retire. Wack terminology aside, the dialogue worked and I only have one other problem with the film. A note to Josh Peck: I know it's your natural demeanor and possibly even your shtick, but please… don't hang your mouth open so much. It makes you lose your edge during some key moments. Other than that, you rock.
I think "The Wackness" got robbed in the awards arena. It won the "Audience Award" and was nominated for the Grand Jury Prize at Sundance. It received a "Best First Screenplay" nomination at the Independent Spirit Awards. It also got a "Razzie" nomination for Ben Kingsley (although in fairness it was aimed more towards his performances in "The Love Guru" and "War Inc."). It's absurd to blame this performance for his past transgressions, since I deem this one his best since "Death and the Maiden." The whole film deserved more acclaim and I hope this review will spread the word.
If you're looking for a quirky film, pick this one up. I sure surprised the heck out of me.
Trailer below… Yep, that's Mary-Kate Olsen, playing a drugged out hippie.

CHOKE ***** (2008) DVD review by Coop
Most people would judge Victor Mancini (Sam Rockwell) as a scumbag: A compulsive sex addict, Victor trolls Sex Addicts Anonymous meetings for women; and he fakes choking in restaurants to con his would-be saviors out of money. But things are not what they seem: He uses the money to pay for his senile con-artist mother's (Angelica Huston) hospice care and suffers the persecutions of the other confused patients who constantly mistake him for someone who hurt them in the past. He feels compelled to play out the unwanted role in order to give the victims closure. The people who save him from choking suddenly develop life-changing attitudes and are grateful to him for inspiring their latent heroism. Even his sex partners feel absolved of their sins after encounters with him. While these ironies confound Victor, his mother's kooky doctor (Kelly Macdonald) offers him a possible explanation that could rattle the very foundations of faith and redemption.
Quirky doesn't even begin to describe this masterful story. Adapted from the great cult novelist Chuck Palahniuk's (Fight Club is his most famous work) book, "Choke" ranks as one of the author's most beloved efforts. Character actor Clark Gregg (he played S.H.I.E.L.D. Agent Coulson in "Iron Man") did a bang up job for his directorial debut. He also poked fun at his habit of playing stiff authority figures by casting himself as the dictator-like boss at a Colonial-era theme park who utilizes a 16th century dialect to scold Victor and other employees for breaking character.
As with all Palahniuk stories, "Choke" has too many wonderful (often obscene) quirky elements to mention in a single review. I credit most of these hilarious and sometimes moving moments to the apt talent of Sam Rockwell. The rest of the cast performs brilliantly and it's too bad this film had just enough of an indie feel to keep it from a nationwide opening.
I can talk about it no more. This film must be seen to be believed. I would warn away any easily offended viewers because in the grand Palahniuk style, this story would cause the Pope a restless night of sleep. For the more daring audiences out there, this one is a must-see.
**Special note** I got to spend some time with Chuck Palahniuk at the 2004 Bram Stoker Awards in Burbank, CA. I listened to him read aloud his short story "Guts" which is notorious for making people vomit and/or faint when he read aloud at mainstream bookstores (I emerged unharmed). I sat next to his table at the award ceremony and received some outrageously unique autographs from him. This guy is the William S. Burroughs and the Hunter S. Thompson of the this era. If you're interested in subversive literature, you MUST pick up a few of his novels.
Trailer below…

-Coop