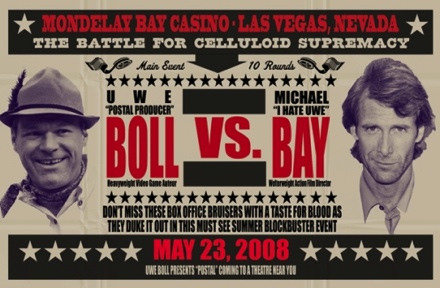 Dark Horizons reports that universally hated German director, Uwe (pronounced "Oo-vuh") Boll is offering co-producing credits on his next movie to anyone who sends him $49 smackeroos. Basically, he's wants us internet schlubs to finance his next movie.
Hold on there, Cletus. Before you pull out your wallet, remember that Boll is the guy who brought you such cinematic gems as "House of the Dead," "Alone in the Dark" and "In the Name of the King: A Dungeon Siege Tale." If you've never seen those films, but the titles seem familiar, it's because they were all classic video games. Fans and critics alike crucified him for insulting video games and genre films by turning out what many agree are some of the worst modern films of all time. These same fans and critics were stymied as to how the man could make bomb after bomb and still find money to make movies. Then it was discovered that he had figured a way to write off the taxes of his films courtesy of the German government. A profitable loophole for his financiers to be sure. Apparently, the guy's a wiz at finding money. He can also secure high-profile actors for his films (Sir Ben Kingsley?). He can do things most filmmakers can't and he can do it without breaking a sweat… except for making a watchable movie.
He's been hailed as the Ed Wood of the 21st Century, completely inept behind the camera but, unlike all other failed directors, he somehow keeps… on… going. He's like Freddy or Jason, the guy just won't go down. IMDB reports that the director currently has no less than EIGHT movies either in pre-production, production or post production. Let's see Tarantino do THAT!
A trained boxer, Boll has challenged critics and fanboys to publicized fights in the ring in order to give both parties a chance to vent their mutual frustrations towards each other. Some of them accepted. Boll whooped their asses. He lived the dream like no other filmmaker… He got to physically wail on his haters and promote his movies in the process.
Boll hating has become an internet sport for critics and fans alike. Yet some have developed a perverse sense of respect for the guy. Some think he's hilarious (check out these gut-busting, obscene emails in broken English that he sent to "Wired" critic Chris Kohler who trashed Boll's film "Postal"). Boll even made a wild claim that Michael Bay had agreed to fight him in the ring and created a video to publicize the event. A puzzled Bay publicly denied the two had ever spoken. Turns out the whole thing had been a publicity ploy to market "Postal."
Those critics/fans he beat up in the ring now seem respect him a bit more. So do I. The guy is crazy like a fox. A genius self-promoter. I dare you to go over to theblackoutfilm.com and contribute your money to help finance a film that might very well add to Boll's dubious reputation. I ain't sendin' him squat, but you can bet I'll be keeping an eye on what this nut is doing.
I hope one day he'll send ME hate mail that will surely entertain me (and you) for weeks. I won't get in the ring with him though… I might hurt him. Dark Side don't fight fair. I tends to get a little stabby.
Here's a promotional trailer from one of Boll's most notorious films, "Postal." This proves the guy is smarter than we all think. He KNOWS he's bad and he knows how to capitalize on it…



Bring it on, Boll!
-Dark Side