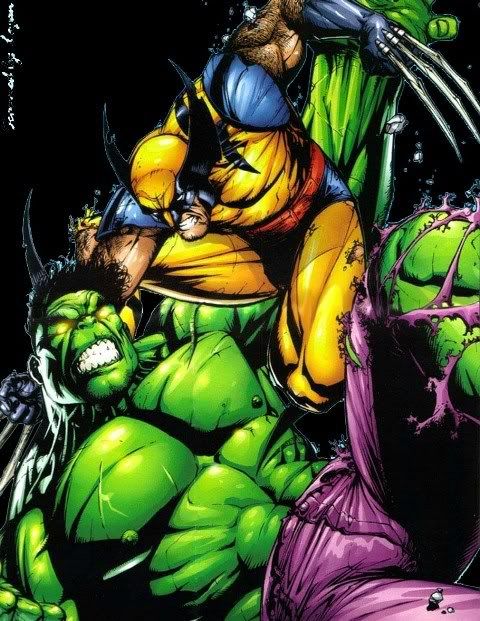 LIONSGATE… What have you done? Have you suddenly been infected with a terminal case of… coolness?
I cried during both of these 45 min. animated shorts. No foolin'. Grow up in my generation, loving Marvel Comics as I did and you'll understand why.
Never in my life (besides the live-action "Iron Man" film) have I ever felt a Marvel Comic so accurately bring characters to life and so perfectly realized as they have in this two-part series. Not only are they pitch-perfect, the creators actualized images and moments from the comics I've never imagined possible for any animated project, much less the silver screen.


Forget that "Ultimate Avengers" cartoon trash. That's kiddie play compared to the cannon-worthy classic versions of The Hulk, Wolverine and Thor depicted in these two shorts. In "Hulk vs. Wolverine", both characters actually kill hundreds of Canadian mercenary jerks to put things straight. In "Hulk vs. Thor," Hulk actually lays waste to most of Asgard, killing hundreds of demi-gods (yep, the concept that Hulk can't be stopped applies to other realms… they see him as a harbinger of their own apocalypse!!! How nuts is that???). These aren't your grandpa's comics, nor are they the re-imagined Marvel junk you see on comic shelves these days. These are pure 1980's-1990's story lines, reborn in animated glory and hell if I didn't buckle like a crash dummy when I witnessed both installments.
Who's in charge of this stuff (at LIONSGATE)? What other animated Marvel titles are on the horizon? I must know more and as soon as I do… so will thou. I mean, you will… know… stuff.
Trailer for "Hulk vs. Wolverine"…

Trailer for "Hulk vs. Thor" (Looks hokey in the trailer. Trust me, it's pure Marvel goodness)…

Then there's this version of the "Hulk vs. Thor" movie that flat-out sucked…


-COOP TWIN powers… ACTIVATE!!! COOP #1: Form of drool… COOP #2: Form of a towel… (I know… DC vs. Marvel… so 1990's)
-C