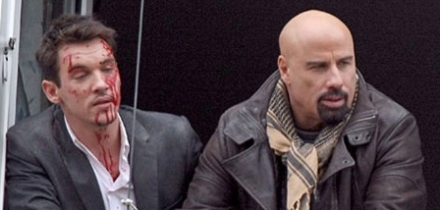 Check out John Travolta's crazy, bald head.
Is Jonathan Rhys-Meyers a Parisian cop? If so, why's he speaking English in an American accent (and what's with that silly pencil-thin mustache)? Obviously Travolta plays an American, but is he a cop? An impostor-cop? Why would an American cop have a rocket launcher in France?
Ah, wait a second… ComingSoon.net has a brief logline for the film:
The thriller "From Paris With Love" concerns a young embassy worker and an American secret agent who cross paths while working on a high-risk mission in Paris.
That absolutely contradicts the information given in the teaser trailer. I'm betting it's like a "Beverly Hills Cop"-like buddy action/comedy with spy elements done Gaul-style.
So many questions. Looks like a total cheese fest to me, but I've got a lot of respect for Morel and Besson for their work in "District B13" and "Taken." Besson alone is responsible for "La Femme Nikita," "Leon: The Professional," and "The Fifth Element"… all movies I love. Rhys-Meyers has done only good work lately ("Match Point," "August Rush"). Travolta, only bad ("Wild Hogs," "Be Cool"). Guess we are gonna have to wait to find out more on this one. Here's a sparse teaser that doesn't even have a title attached to it. Maybe they're thinking about changing the title to "Welcome to Paris, Baby?"