Snagged this info over at Aint it Cool News. Yep, that's Lee Freakin' Horsely in the pic above reprising his role as Talon from the 1982 fantasy epic "The Sword and the Sorcerer." Now, nearly three decades later, Director Albert Pyun is finally delivering on the promise etched into the end credits saying "Talon will return in Tales of an Ancient Empire!" You fans probably waited a few years then gave up hope. You gave up too soon, losers.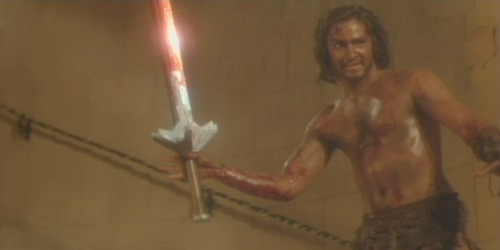 For those of you who don't remember, "The Sword and the Sorcerer" was one of the better adult (rated "R", not porn) fantasy epics to come out in the 1980's. The story follows a mercenary named Talon with a nifty three-bladed sword that fires blades like arrows. He gets hired by a displaced princess (Kathleen Beller) to battle the evil despot Cromwell (Richard Lynch) who came to power with the aid of a hideous sorcerer ("Night Court's" Richard Moll). Turns out Talon is an exiled king who has more at stake in this battle than his prize (which happens to be a night with the princess!). Meanwhile, Cromwell has double crossed the sorcerer who vows revenge and destruction upon the entire kingdom. Not as great as "Conan the Barbarian," but still tons of fun.


I know, I can't believe a sequel's finally happening either. Now, before we get too excited, let's remember who's directing this opus. Albert Pyun has one of the worst track records for making crappy films. He blew a chance at making a "Captain America" film, getting it banished to direct-to-video and STILL nobody saw it (except for me) because it sucked. He's done other works of tragic ineptness like "Dollman," "Alien from L.A." and "Brain Smasher… A Love Story" starring Andrew Dice Clay and Terri Hatcher. Those aren't even the worst. However, he has managed to deliver several cult classics… Films like "Cyborg" with Van Damme, "Nemesis," "Mean Guns" and an interesting experimental POV horror film called "Infection." He even managed to create a loose sequel to the amazing "Streets of Fire" called "Road to Hell," which I hear is unwatchable. Granted, the guy's got an Ed Wood-like enthusiasm that could give him the boost to pull it off. Let's hope "Tales" is his "Plan 9 from Outer Space" and not his "Glen or Glenda?"


I nearly forgot to mention, Kevin Sorbo stars as the lead in "Tales." Possibly as Talon's son, but I've got no confirmation on that.
Until, check out the old trailer for "The Sword and the Sorcerer." The quality is lousy, but it's the best I could find…