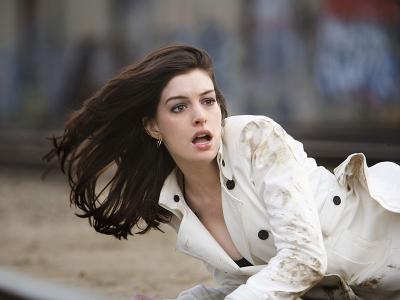 Holy Hannah!!! Click here to read my report on the matter BEFORE the award announcment, then Coop's opinion on the entire Golden Globes proceedings last month.
Ok, not only did Anne LOSE to Kate Winslet, a feat that could've been ignored (although a HUGE upset) except for one thing… Hathaway was IGNORED for the entire ceremony as far as the cameras were concerned. This was UNBELIEVABLE due to the fact that…
1. Hathaway was present AND expected to win.
2. None of the audience saw Hathaway at all during the entire broadcast. She was in the building, even in the room… yet all the screen time went to her competitors. Not to mention the entire ceremony seemed to be censored from all but the most superficial of musings. Only the drunk Tracy Morgan got any ribald comments into the usually boisterous proceedings.
3. Marisa Tomei was IN ATTENDANCE.
Did you notice that not a single winner was caught in the bathroom this time? WEIRD (or possibly highly organized and idiot-proofed?) Were they afraid of further scandal or foul-ups?
Many people will say this entire "Hathaway" incident was… "Swept under the rug." Sorry, Anne. Like I said before, you don't deserve this scrutiny, but if I were you, I'd be pretty damned miffed enough to speak out against it. Some people believe you got ROBBED.
Consider this, o random objective reader…
Hathaway LOST after having been declared the winner on Friday on the HFPA website. It was an accident, yet it was reported and sent out. Can't cover it up.
Hey, HFPA… (serious time here)
You're BUSTED!!!!!
Pia Zadora, anyone??? It's 1981 all over again.
The outspoken critics that consider the HFPA a joke are vindicated. Everyone GASPED at Kate Winslet winning "Best Actress." Not that she didn't deserve it, but even she was horrified (yet understandably pleased) at the unexpected revelation. Cameras didn't even bother to show the reaction of the rest of the audience (including Hathaway's). Nice try at a PR cover-up, but we're onto you this time, Hollywood Foreign Blah Blah. Hell, you didn't even show Hathaway at all. She was so on the fringe of your coverage, I wasn't sure she was even present, until I saw a random frame of her kissing another actor in greeting near a commercial break.
Sure, there's the possibility that this was all a misunderstanding, but you (The HFPA!!!) did SUCH a good job at making it look fishy and with your past track record, you don't have any credibility to barter with.
Ok, you nearby-wannabe Spanish Siskels and Mongolian Eberts… my semi-clever insults can express so little… so let me spell it out for you:
I DON'T LIKE YOU. GET OUT OF MY BACK YARD, you Hollywood Foreign Press Associated Henchman (HFPAH!!!).
Don't get me wrong. I love foreign film. Especially foreign exploitation… the grindhouse film variety that is. I thrive on art for art's sake even if it's disgusting… As long as everyone involved is honest about it. I encourage everyone that agrees with me to throw worm-ridden tomatoes at you. Your exploitation goes deeper than grindhouse. "I Spit On Your Grave" has nothing on you.
Once Hollywood finally denounces the pathetic joke that is the Hollywood Foreign Press Association, and those wannabe, Paolo Pasolini-jerking fools (Scorsese loves the Marquis de Sade!!!… so do I, but it's the principle behind the thing) have no say in this country's award system.
Not to mention, most of the American public doesn't need, care or want Roman Polanski back over here. Nobody mentioned it tonight (although they obviously wanted to), but it's been clear for a long time the Europeans want him back in the U.S. to regain former Francophile glory (even my spellcheck doesn't like the word "Francophile"). He's petitioned this past year to re-enter (pun intended!) the United States. Lest he forgets, we don't forget and most of us don't take kindly to his type 'round here.
If he does manage the legal steps to return, I'll slap the handcuffs on him myself and make sure he makes his court appearance for the underage butt-rape he's admitted to. I got a gun. I can help. 2nd amendment. Look it up, jerks. I might slap him in the face too cause more than likely he will resist a citizen's arrest. I don't like Francophile-dudes who run from the law and try to use their money/political influences to make all their underage butt-sex go away. That's what the serial rapist "Max Factor" heir did and "DOG the Bounty Hunter" kidnapped his ass in Mexico and put him back in the American penal system (even though DOG got in lots of legal trouble for the act, but got a TV show for his efforts so it's not so bad).
Polanski… you have SOME good will here (plus a few short-sighted celebrities/moguls willing to forget your past transgressions… i.e. STATUTORY SODOMY/RAPE). Despite your recent award winnings… STAY IN EUROPE. Your good will does not apply to me, nor does it for most Americans. I will protest your return to the USA with ALL MY RESOURCES (i.e. this humble blog). I like most of your work, but don't piss me off anymore than you already have. Stay in "Frogtown" (Paris/Nice/Cannes/Haiti/Hell). We can see your award-winning schtick just fine from over here.
Actually, Polanski's ordeal isn't 100% relevant to the Golden Globes at this juncture… or is it? He'd so be there, front and center, if the U.S. Government totally caved into his "rape pardon" petition. Hey, Polanski… Excuse me… PEDOPHILE PERVERT… You bug the crap out of me for trying to legally weasel your way back into my backyard this year. I liked "The Tenant," but I HATE YOU. You're relevant in this discussion because you remind me what the HFPA is all about… pretentious wannabe Europeans (possibly Venezuelans, The Welsh and French "blame Canada" Canadians) trying to influence me. It's not working. Stay where you are, Polanski. I have a feeling I'm not the only one who will notice you trying to sneak back over here under the anti-pedophile (in Europe I hear it's spelled "paedophile") radar. Don't forget… paedophiles must register with the local government and go around, knocking on doors to announce their presence in the neighborhood. Don't worry though. You can still play cards with Paul "Pee-Wee Herman" Rubens, Michael Jackson, Geoffery Jones and Pete Townsend.
Ok, I'm done picking on Polanski, but he and the HFPA make it so easy.
HFPA, stay out of my life and let Mickey Rourke win a REAL award. I can't wait to hear him accept his OSCAR.
WOW, I'm mad about the awards tonight. And paedophiles. I boycotted both, yet paid attention to the outcome of the GGs. No, there aren't any awards for paedophiles… except every award Polanski got since 1978. Did I mention he raped a 13 year old girl?
Back to my boycott of the Golden Globes… What else was I supposed to do? Let Marisa Tomei win AGAIN and not say a single thing (I'm kidding, Marisa. I like you… or do I)? I paid attention, but I still insist on a general GG boycott. Will do the same next year. Hopefully someone will listen.
Despite the predictability of most of the awards ("Slumdog" for Best Picture… Academy Awards-bound!) I'm gonna be punching my pillow tonight over the obvious scandal. Anne Hathaway, whether you really won or not, I'm sorry. Sorry you got pulled into the whole danged horror that is the Golden Globe Awards.
HFPA, you blew it horribly. Even worse than I expected. Way to try to sweep your mistakes under the rug and look like magnificent douche bags in the process. Anne Hathaway will never forgive you. Kate Winslet will always feel weird. You made things so much worse and awkward, I suspect all those guys that didn't show up…Hey, where were those insignificant actors like Sean Penn and Phillip Seymour Hoffman??? Just a sec… it's cool. Judy Dench showed up. Oh that's right… SHE DIDN'T. So many of the big actors failed to show up. They avoided your mess like the plague. Let's see how many of them are absent at the Oscars…Get used to it, Hollywood Foreign Press Association. You can give Spielberg all the lifetime achievement awards you want. Doesn't mean he's gonna stand up for you when you've made asses out of yourselves so egregiously, he has no choice but to pretend he doesn't know you (and believe me, he's good at doing that… in fact, he hasn't returned my phone calls in the last 14 years).
Consider this my last word as The Small Town Critic banishes me to the nether regions of the soul. I'll continue to lurk nearby, until it's time… Time to suck a lime… Time to bust a rhyme… MUAHAHAHAHAHAHAHAHA… "

Gacy? What the hell does he have ANYTHING to do with me or Roman Polanski?…
Oh…
-The Dark Side Critic