Cartoon Network's ADULTSWIM has outdone itself with this crazy little addition to its lineup. Did I say little? I meant GINORMOUS. These 15 minute shorts have become so popular, they've accomplished three unlikely feats:
1. Produced an album that debuted #21 on the Billboard's Top 100
2. Spawned a concert tour in 2008 with sellout venues
3. Single-handedly made "Death Metal" more popular than ever
All this from a band that only exists in a cartoon. Add some gratuitous gore, original metal music and hilarious characters and you've got AdultSwim gold wrapped up in a neat little lead package (Metal puns! See? See?…).
Brandon Small, who developed the creative "Home Movies" for AdultSwim, has assembled an ensemble voice-over cast featuring the likes of Mark Hamill (Luke Skywalker from "Star Wars") and Malcolm McDowell ("Caligula" and "A Clockwork Orange"). Small himself provides lead vocals and guitar for the band accompanied by 300+ pound drummer Gene "The Atomic Clock" Hoglan of such bands as "Death," "Dark Angel" and "Testament." The band finished a live tour late last year and the AdultSwim show wrapped a 2nd season around the same time [correction: the tour ended in July 2008, season 2 ended in Sept.]. No doubt fans will eagerly await "Metalocalypse: Season 3," as well as Dethalbum 2 and DETHKLOK LIVE when they get around to it. I, for one, can't wait to see them in concert which features the band members in the shadows playing in front of a massive screen depicting the fictional band (ala GORILLAZ).
The show follows the band DETHKLOK and their members whose popularity have eclipsed The Beatles to become the 12th largest economy in the world. Their irresponsible financial neglect has rendered the nation a wasteland and their over budgeted concerts always results in the death of most of the fans in attendance. A cabal of world leaders assemble weekly to assess the gravity of Dethklok's destructive influence on the world, while probing strategies to undermine them due to an ancient prophecy that predicts Dethklok will one day initiate the "Metalocalypse" and destroy the world… mouthful.
Meanwhile, the aloof band members indulge in frivolous non-musical activities such as stand up comedy, bogus charity events, learning about the blues and avoiding their insufferable parents.
Genius, I know.
99% of the hilarity comes from the band members, including:
1. Nathan Explosion (Singer, leader and grim Governor of Florida)


2. William "Murderface, Murderface" Murderface (Bassist and gruff malcontent, famous for playing his instrument with his wang)


3. Pickles ("The Drummer," former Wisconsin reject of glam-metal band "Snakes 'N Barrels" and chronic alcoholic)


4. Skwisgaar Skwigelf ("Fastest Lead-Guitarist on Earth" from Sweden. Digs elderly women)


5. Toki Wartooth (Rhythm guitarist from Norway. Considered the most childlike and innocent band member, yet everyone close to him dies HORRIBLE deaths).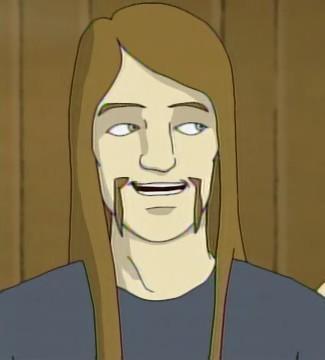 A few supporting characters sometimes steal the show, my favorite being "Doctor Rockzo, the Rock and Roll Clown (he does cocaine!)."


I also think Toki's scary Nordic minister parents deserved more screen time. They never said a thing, they stared… and creeped us all the hell out.


Watching "Metalocalypse" for me is like Rosie O'Donnell unchained too close to a wedding cake. We are bound to overindulge.
Hear me now and believe me later, DETHKLOK is a legitimate phenomenon that's captured a subculture by storm. I don't think they're near done yet. All of their songs are jokes with joke lyrics, but they make up for it by OWNING the genre music they play. I've listened to death metal since 1991 and haven't heard anything quite as catchy as this. Go to iTunes and buy their stinkin' album. Like me, you'll be listening to it for months without even thinking of breaking out your old STRYPER tapes. Jonas Brothers, eat your hearts out… literally.
Enjoy a few videos the DETHKLOK boys have to offer…
Possibly their only legit music video on YouTube: BLOODTROCUTED…

Here's a full show of one of the best "Metalocalypse" episodes: DETHKIDS…

Metalocalypse-Dethkids
And of course, Doctor Rockzo…



I DO COCAINE!!!
-THE DARK SIDE CRITIC