Holiday films are a special genre, best viewed during this time of the year. If you're looking for a few to give you a bit of seasonal cheer, you can do no wrong with the list below. While many of these have remakes and other versions, I consider these the best of the lot. Sorry Charlie Brown and Mickey Mouse (no TV specials in this list!). Sit back with your family and let one… or ALL of these motion pictures brighten up your holiday celebration. Trailers are also included below each selection…


10. BABES IN TOYLAND (1934) – One of the earliest Christmas films, Laurel and Hardy protect Bo Peep and "Toyland" from the clutches of the evil mastermind Barnaby and his bogeymen. This classic slapstick comedy still entertains for both children and adults alike. Ignore the remakes. Stick with this original classic.



9. ELF (2003) – Made at the height of Will Ferrell's career, Elf tells the story of Buddy, a human raised as an Elf at the North Pole. Definitely Ferrell's most kid-friendly film, Buddy must restore Christmas spirit to a New York (and his father, played by James Caan) before everyone's holiday apathy sabotages Santa's annual mission. Only Ferrell could make a potentially annoying character so funny.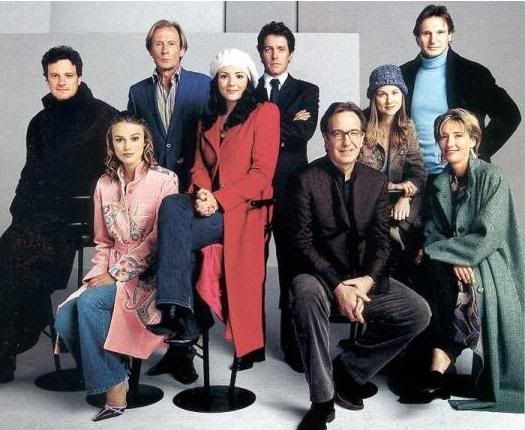 8. LOVE ACTUALLY (2003) – The most adult film on this list also has one of the most sentimental. An all star British cast toplined by Hugh Grant, Liam Neeson and Alan Rickman discover the meaning of love during one fateful holiday. The overwhelming romanticism might come across as naïve to the cynical, but do not underestimate the cult following behind this film. I've been to many a Christmas party where the host played this film continuously on a loop the entire night.



7. SCENT OF A WOMAN (1992) – Okay, so I was hurting for good Thanksgiving movies. This one happens to take place during a Thanksgiving weekend as a prep school kid played by Chris O'Donnell agrees to escort a blind war hero (Al Pacino) on a weekend jaunt to New York. Pacino gives an Oscar-winning performance which forever linked him to the exclamation: "Hoo-Ahh!!!"



6. SCROOGED (1988) – Bill Murray stars in this creative and humorous remake of "A Christmas Carol." An all star 80's cast reprises the classic story along with some great special effects and a couple of memorable musical moments. Murray stands out as my favorite incarnation of the grumpy miser visited by the spirits of Christmas. Charles Dickens would be proud.



5. MIRACLE ON 34TH STREET (1947) – One of the most prolifically remade Christmas classics, a guy claiming to be the real Santa Claus gets locked in an insane asylum. A young lawyer must prove the man is the true Santa Claus in court. When it comes to multiple versions of the same movie, always bet on the original. While the remakes are fine and dandy, the original won three Oscars and was nominated for best picture.



4. NATIONAL LAMPOON'S CHRISTMAS VACATION (1989) – The most family-friendly film of the "Vacation" franchise, inept patriarch Clark Griswold wants the perfect Christmas for his extended family. He must endure squirrel attacks, his uncouth cousin Eddie, decoration mishaps and a greedy boss who won't cough up a much needed Christmas bonus. Poor Chevy Chase couldn't catch a break after this movie, making it his last watchable starring vehicle.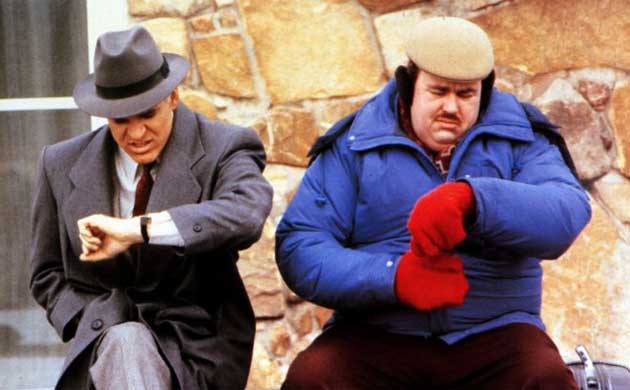 3. PLANES, TRAINS AND AUTOMOBILES (1987) – Hands down the best Thanksgiving movie ever forged. John Hughes played on the chemistry between Steve Martin and John Candy as mismatched businessmen desperately trying to get home to their families in time for turkey. Although much of it is a laugh riot, this one also had a lot of heart and as for the ending; you'll need a box of tissues.



2. IT'S A WONDERFUL LIFE (1946) – This immortal classic received five Oscar nominations and was nearly overplayed to death on TV in the 1980's. Jimmy Stewart plays George Bailey, a guy so down on his luck on Christmas he wishes he was never born. An angel named Clarence grants him that wish and shows him what his friends and loved ones would be like without him.



1. A CHRISTMAS STORY (1983) – Easily the greatest American holiday movie of all time. The story revolves around Ralphie and his simple holiday wish for a Red Rider BB gun. Too bad everyone around keeps telling him, "You'll shoot your eye out!" Based on true stories written by Jean Shepherd, this film is required viewing for my family on Christmas Eve. Fun fact: Peter Billingsley who played Ralphie is now a working Hollywood producer, responsible for creating films like "Iron Man" and "Zathura."

Honorable Mentions: GREMLINS, BAD SANTA, DIE HARD, HOME ALONE… All of these take place during the holidays although I'd sooner categorize them in other genre categories. They aren't designed to get you into the spirit, but they do none the less. Happy Holidays!
-Coop
OTHER "LIST" ARTICLES…
#1:  BLEEDIN' WICKED GOOGLY… Films about 35 of those "Other" Sports (Parts 1 – 7) by JAY
#2: "Bard None: A Cinematic Guide to Really Bad Shakespeare" by JAY