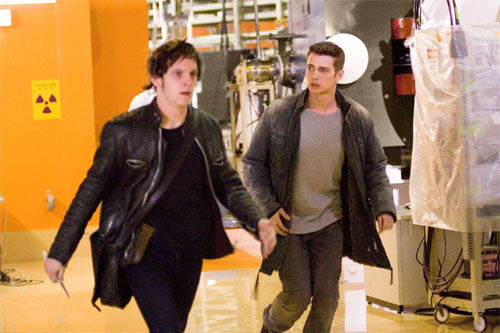 This movie got shafted. I heard some reviews saying it was lame so I skipped it. Catching it on DVD I realized it was a far more satisfying superhero film than most.
David Rice's (Hayden Christensen) mother leaves and his father turns abusive, fueling his desire to run away from it all. A near-fatal accident causes David to suddenly manifest a very liberating superpower… he can teleport himself anywhere in the entire world at the blink of an eye. He fakes his death, abandons his school crush Millie (Rachel Bilson) and spends the next several years robbing banks, living in a posh Manhattan penthouse and using his power to find adventures across the globe. Enter Roland (Samuel L. Jackson), leader of a fanatacal group calling themselves "Paladins," who take it upon themselves to hunt down and kill "Jumpers" like David. When David reconnects with Millie and gets her caught up in the danger, David teams up with fellow jumper Griffin (Jamie Bell) to fight the paladins and rescue Millie.
This one was a lot of fun in no small part to the inventive fight choreography used by the jumpers in their fights against the paladins. Jumping to London to teleport a double-decker bus to throw at a paladin thousands of miles away had to be one of the coolest ideas I've seen in awhile. The ending sets up for potential sequels but I doubt the film did well enough to warrant it. Talk about a useful power though. I know where I'd go first. How about you?
Here's a cool scene from the film…